I know, I know, Perhaps I'm a little late to the party, since instead of writing this blog on the midnight of New Year, I'm actually publishing this blog on the end of first week : )
Interestingly, One of my mentors recently taught me that
"There is no such thing as a perfect time"
Wondering, how does this makes sense? Here's how he explained it to me :
Consider that tomorrow's your birthday. Now, Today (i.e. a day before your birthday) you're x years old and suddenly tomorrow, you'll turn x+1 years old.
At this point, although you're a year older, but over this short period of time of just 24 hours, nothing changes, you're still that same person : )
However, if you take a look back and try to compare things b/w the moment you turned x years old on your last birthday and this birthday, it's a significant amount of time and chances are that you might've changed a lot during this period.
With that, I'm writing this blog today on Jan 8th and in this one, I wanted to take a look back at what all happened during the course of this 1 year.
To start with,
2022 has been an extremely rewarding year for me.
I am proud that I have done heck lots of things this year.
At the same time, 2022 taught me many things, or maybe it would be more correct to say I never got a chance to learn so much in a year because we humans generally learn from our experiences, exploration, and mistakes.
So, here are some of my highlights from 2022 : )
First Sales Pitch
This happened near the end of 2021 and beginning of 2022. Hari, Siddharth, Radhika and I were working on this new completely new product 'HackerDraw'. HackerDraw is an all-in-one diagramming tool for tech diagrams with powerful collaboration features.
During this, Radhika & I were given the opportunity to go ahead and talk with two potential customers and pitch HackerDraw to them. Thankfully, I used to give a lot of pitches during Hackathons, which was immensely helpful.
Before the call of course, I went through tons of Steve Jobs's presentations and prepared a deck. I still remember that day, I was super nervous at first, but in the end the demo went great, and we got a lot of good feedback!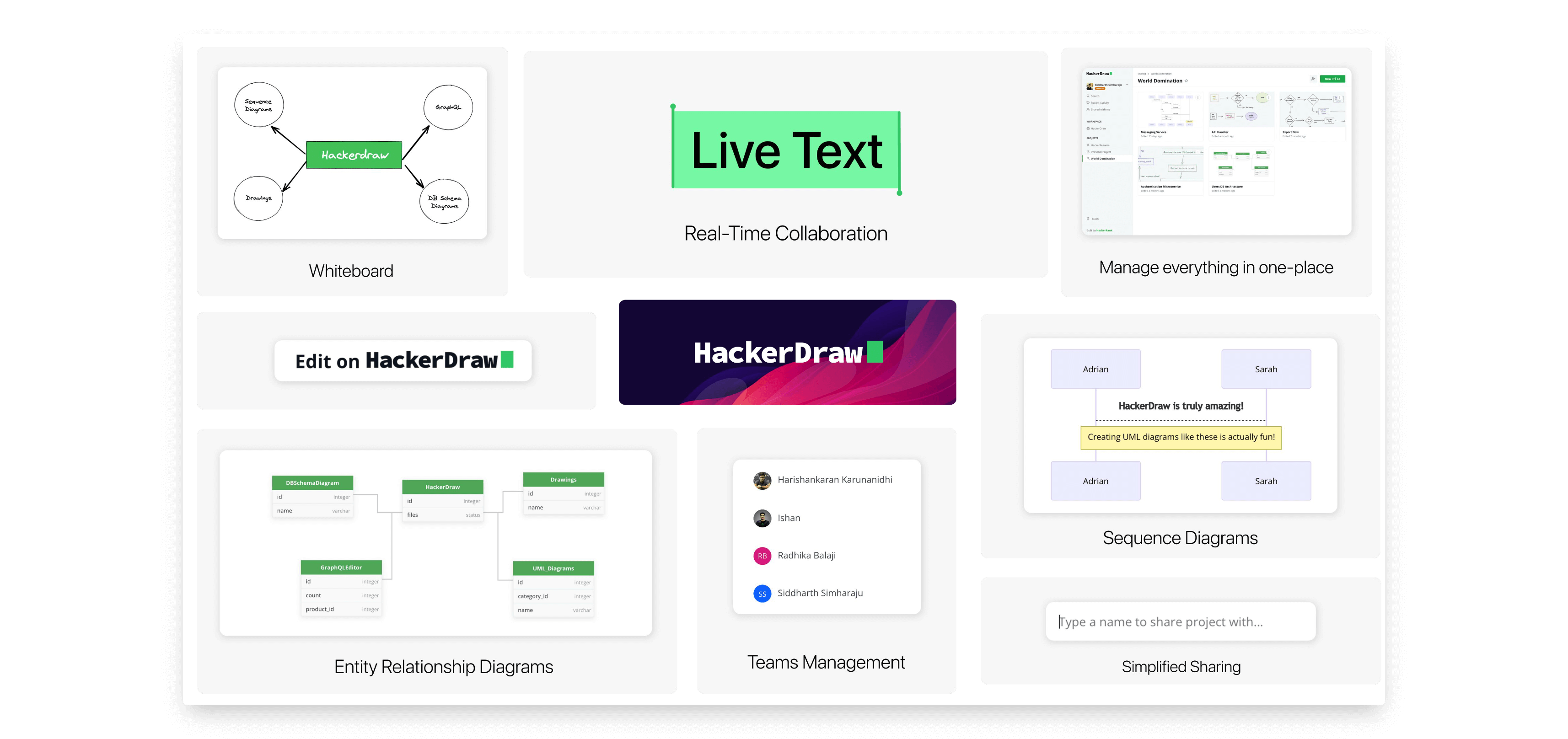 Mentoring Interns
Weeks later, a few more interns joined HackerDraw squad and I got the chance to mentor them. It was such a learning experience, acquired a lot of skillsets, such as how to delegate tasks, how to give feedback without criticizing someone etc.
Gratefully, these interns I was working with were (and still are) incredibly smart and they taught me so many things. Overall, it gave me a new perspective and helped me to appreciate folks in managerial roles even more. Contrary to popular belief, it's not an easy job 🙂
P.S. Please note that, during this period even I was an intern (SDE Intern II), lol 😛
Road Trip to Shimla
I embarked on my first road trip of the year to Kasauli, Shimla, and Solan with three of my school friends. During our trip, we were able to explore these charming towns and take in the stunning views of the surrounding mountains. We visited local attractions such as the Mall Road in Shimla, the Gurkha Fort in Solan, and the Sunset Point in Kasauli.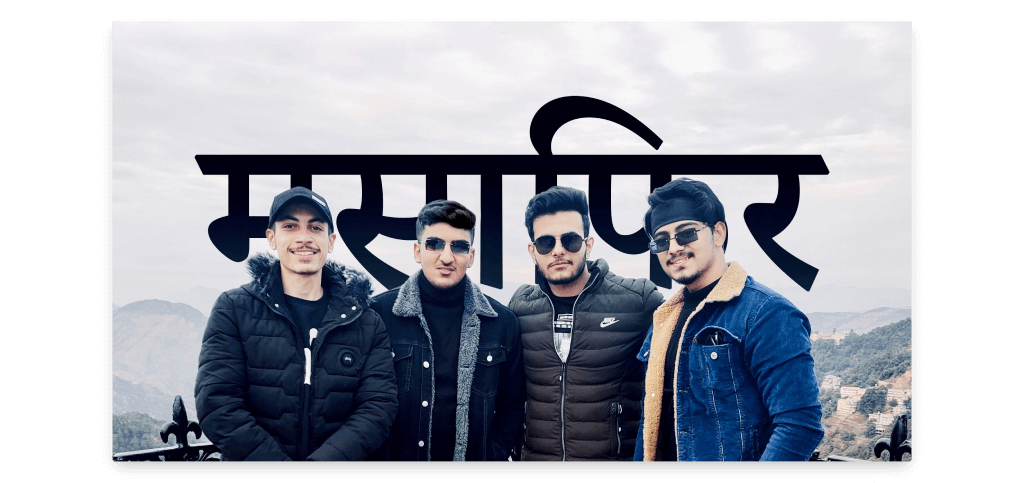 Of course, we also tried some of the delicious local cuisines, such as momos and thukpa, and took lots of pictures to capture the memories of our trip.
But, you know what was my favourite part? This was the first time I was driving my car on hills and it was a thrilling experience navigating the steep inclines and sharp turns, we pulled down window panes and enjoyed the breathtaking views from the top 💙
Labs Team
In HackerRank, we formed a new Labs team inside the company, which solely focuses on building & trying out new product ideas and achieving product-market fit. You can read more on that, here in Hari's blog.
Shortly after that, In March, I had the chance to attend my first team offsite in Bangalore. It was fun getting to meet all my colleagues and bonding with them during the trip. We had a lot of cool activities planned, including visiting Hari's place and playing poker. (and a few things, which I cannot mention 🫠)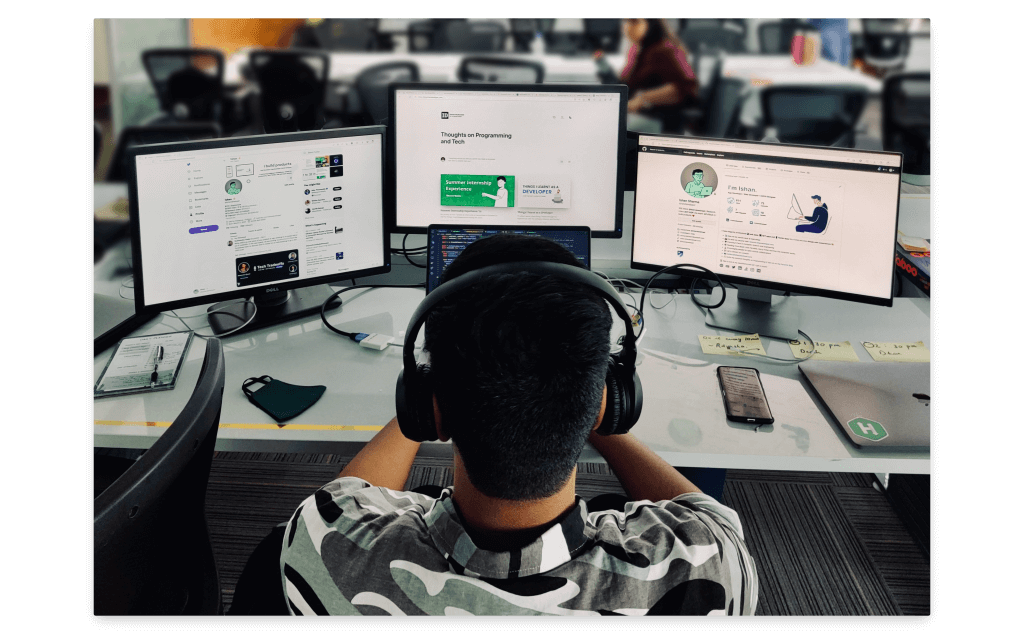 Oh, and this is an image of me working on my workstation. Yep, out of my good heart, I willingly gave my standing desk to Hari for a period of 1-week :)
Mumbai Trip & OTC Meetup
After labs offsite, in last week of March, I decided to go to Mumbai since I had never been there and just wanted to explore the city. On top of that, during covid I came across this amazing community, Our Tech Community through twitter and made some amazing friends.
A lot of these folks were from Mumbai and hence I thought I'd get the chance to catchup with them as well. To my surprise, the moment I landed in the city, I received a call from Harsh, even before my mom could call me :D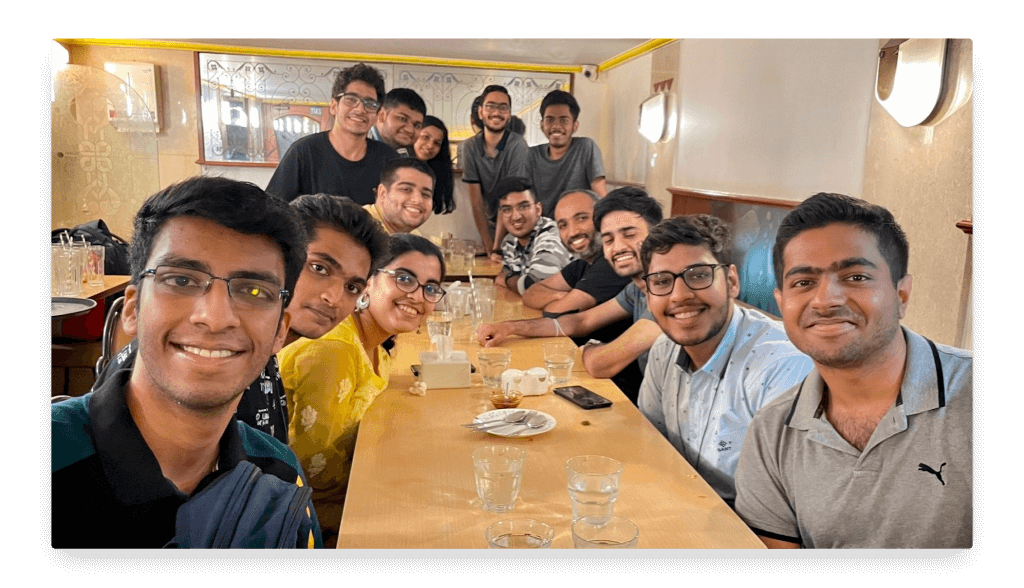 Within minutes, before I could even reach the hotel, my phone started getting bombared with these notfications, "Harsh added +91-XXXXX-XXXXX to 'Ishan Mumbai Meetup' whatsapp group.
Next day, These folks had planned a lunch and the moment I entered, I was shocked. Damn it! I had no idea that these many folks would show up! These are some of the most exceptional and curious folks that I've had the privlege to interact with in online calls, over the course of last few months.
This is certainly one of the bestest highlights for me for the year 2022 and I still can't get over this! ❤️
During this trip, I was accompained by one of my friends, Medha and we explored rest of the city over the course of next 2 days.
This was all made possible because of two of my amazing colleagues Swapnil and Shloka, who helped us with everything, from boarding my first local train in Mumbai, to ferry rides near Gateway of India, to accompanying me in visiting a beach for the first time in my life.
This was the first time, I had ever been to a coastal place, I still remember walking alongside the road on Marine drive, just sitting over there on the banks and listening to the sound of the ocean.
"When I stood by the vastness of the ocean, it helped me put my own problems and worries into perspective and helped me realize how small and insignificant they really are."
---
Kanishq's Farewell
On Jul 15th, 2022. One of closest friends & colleague, Kanishq had to leave HackerRank since he was about to pursue his Masters degree from University of Maryland, US. Hence, a few of us decided to celebrate his farewell in-person by visiting him in his hometown, Chennai.
During this, we visited Edward Elliot's beach as well. Of course, we had a lot of fun! I remember eating snow cones, taking fun rides on the beach etc. But, the most exciting thing for me was that, This was the first time I walked barefoot on a beach.
It was an incredible experience. It may sound poetic, but As I walked along the sandy shore, the sound of the waves crashing against the shore and the feel of the soft sand beneath my feet was unlike anything I had experienced before.
The wind blew through my hair, and the smell of saltwater filled the air. The vast expanse of the ocean stretched out before me, and I felt a sense of awe and wonder wash over me. I was struck by the beauty of the beach and the power of the ocean, and I knew that I would always remember my first real visit to the beach.
On top of this, it was the first time I stepped into ocean water and felt the force of waves against my feet.
Even though, I'm a grown adult (21) at this point, still I couldn't resist myself from playing with the ocean water 😛 Eventually, Karthik, Dev & I ended up wetting ourselves. Man, Getting a ride back from the beach to our airbnb was such a funny experience 🤣
First Talk (Virtual)
A few days before Chennai Trip, I attended this IndiaFoss conference in which Aakansha Ma'am was giving her talk. (It was a great talk, btw! Check it out here). After her talk, we were just catching up on a few things and that is when she asked me, "Ishan, why haven't you applied for a talk yet?".
As you may have inferred from my 'First Sales Pitch', I love presenting ideas in front of an audience. And giving a talk sometime and speaking on stage in front of an audience was certainly one of the things in my list.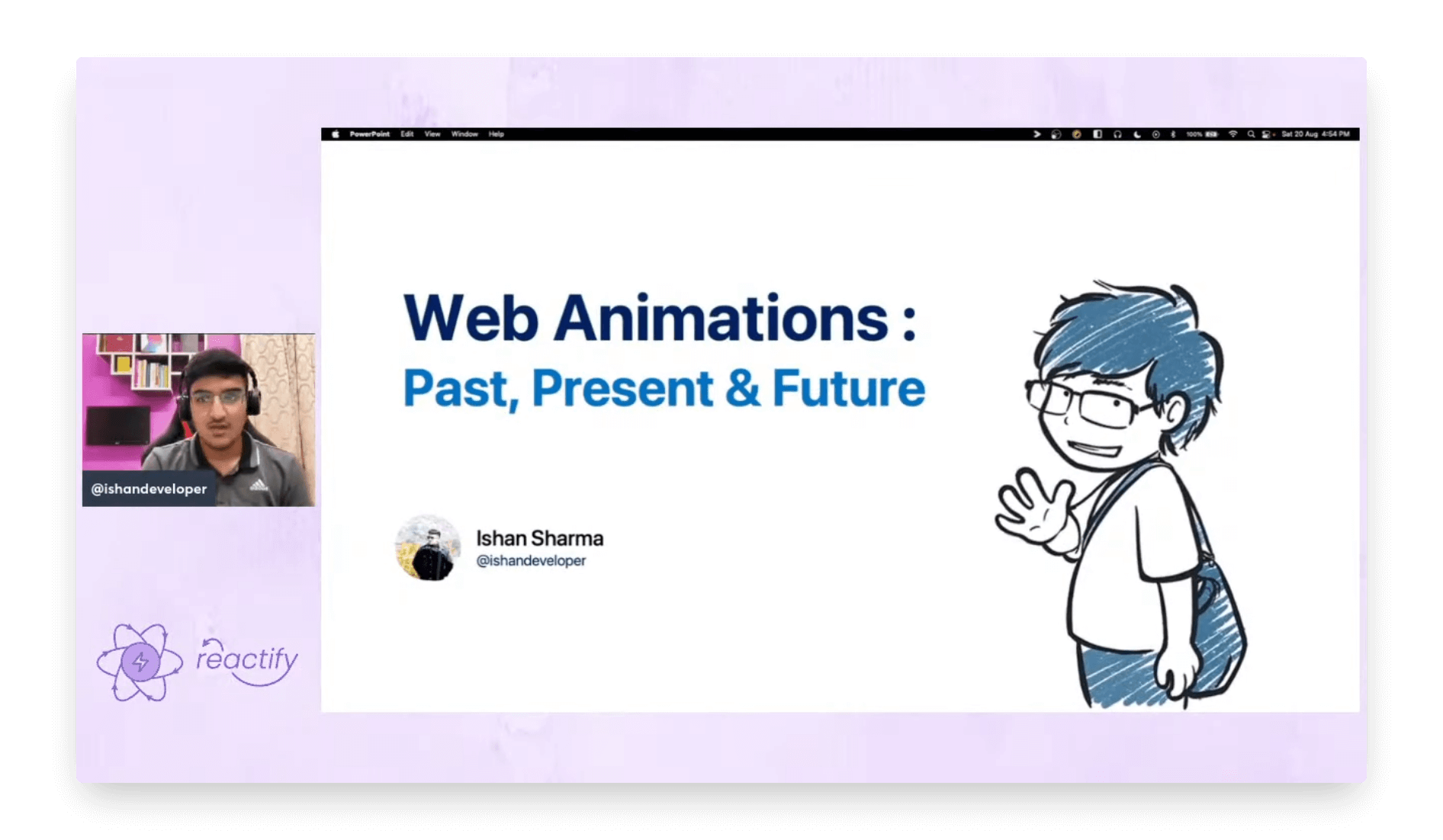 However, in order to speak at these conferences, people generally have to submit these CFPs and deep down somewhere, I always had this fear, What if I get rejected?. Hence, I never applied.
But that conversation with my mentor, encouraged me to apply for one. So, I prepared a talk on Web Animations: Past, Present & Future and soon enough, it got accepted for React Bangalore and that's how I gave my first talk :)
Labs Offsite
The month of September was packed with events!
Firstly, there was this labs offsite again. Even more jam-packed and even more fun than the previous one! We had multiple sessions, brainstomed together on lots of ideas and of course, as usual we went to Hari's place for a party :)
It didn't end there though, on the last day of our offsite, we all visited JTD which is a non-profit organisation in Andhra Pradesh. We left early from Bangalore in the morning and reached this school during daytime.
Our day started with such a warm & grand welcome by the kids of that school, which was followed by a nail-biting cricket match b/w their cricket team of young girls, (one of them was 9 years old!) and our HackerRank Team (which comprised of two injured Players, Karthik & Radhika, both of them had a broken foot), some amazing authentic Andhra Pradesh food, lots of games, A Q/A Session with Hari & an astronomy session.
Of course, goes without saying we lost the cricket match 🏏
The above is a picture of the winning team 🏆
First Offline Talk
September 17th, 2022 was my first-ever offline talk outside of college. This was the first time, I was addressing an audience live on a stage.
This one was organised by FOSS United Bangalore and was held at Microsoft Reactor Office in Bangalore. I was not that nervous, until I went on the stage. I'm not sure if this has ever happened with you.
But, the moment I started my talk, Microsoft Powerpoint bailed out on me and crashed. At this point, I was standing there on the stage, trying to figure out what happened. Awkward, right?
Yep, I suddenly felt that it was awkward, I turned my wrist and my watch gave me a haptic feedback that my heart rate is high. Thankfully, this is where those instincts from watching all those steve jobs presentations kicked in.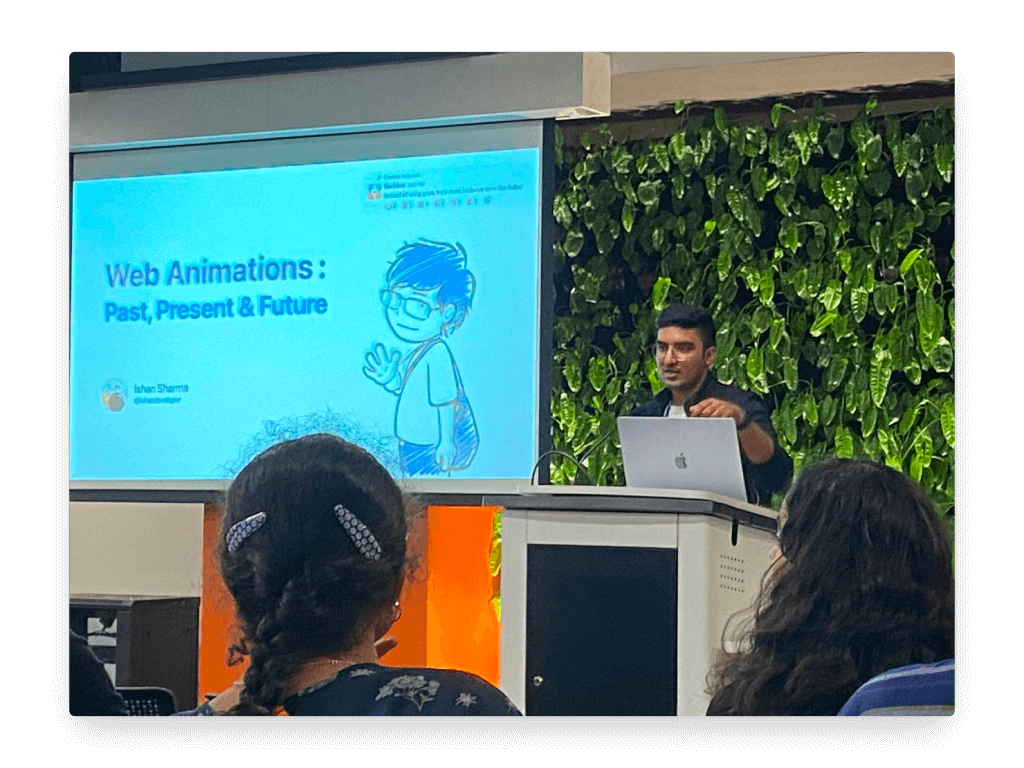 While, I was trying to figure out how to fix things up, I started cracking jokes, I remember one of them being "The most ironic part is that microsoft powerpoint crashed in a microsoft office", because technically, at that time, we were in a Microsoft building :)
Anyways, at the end, the talk went terrific! And to my surprise, Hari & Akshay also showed up to attend my talk! 🥺 Best day ever :)
React India Conf
In September 2022, I had the chance to visit Goa, a beautiful city in India, and attend the React India Conference. It was an incredible opportunity to meet and learn from some of the most respected names in the industry, such as Kent C Dodds and Tejas Kumar. The conference was packed with informative talks, workshops, and networking events, and I came away with a wealth of new knowledge and ideas.
In addition to the conference, I had the opportunity to explore Goa and all it had to offer. From its stunning beaches and vibrant nightlife, to its rich cultural heritage and delicious cuisine, there was always something new and exciting to discover. Overall, my trip to Goa and the React India Conference was an unforgettable experience, and I am grateful for the opportunity to have attended.
I have covered my experience on React Conf in more depth over here.
Pondicherry
In November, Medha, Radhika & I went on an adventurous trip to Pondicherry.
We left early in the morning from Chennai and made our way to Pondicherry via the East Coast Road. It was a beautiful drive, with the ocean on one side and picturesque landscapes on the other. The weather was perfect and we had the windows down, enjoying the cool sea breeze as we sang along to our favorite songs.
We arrived in Pondicherry in the evening and checked into our Airbnb, which was located in a peaceful neighborhood not far from the beach. It was a workcation. So, After freshning up we all just went back to our virtual zoom rooms.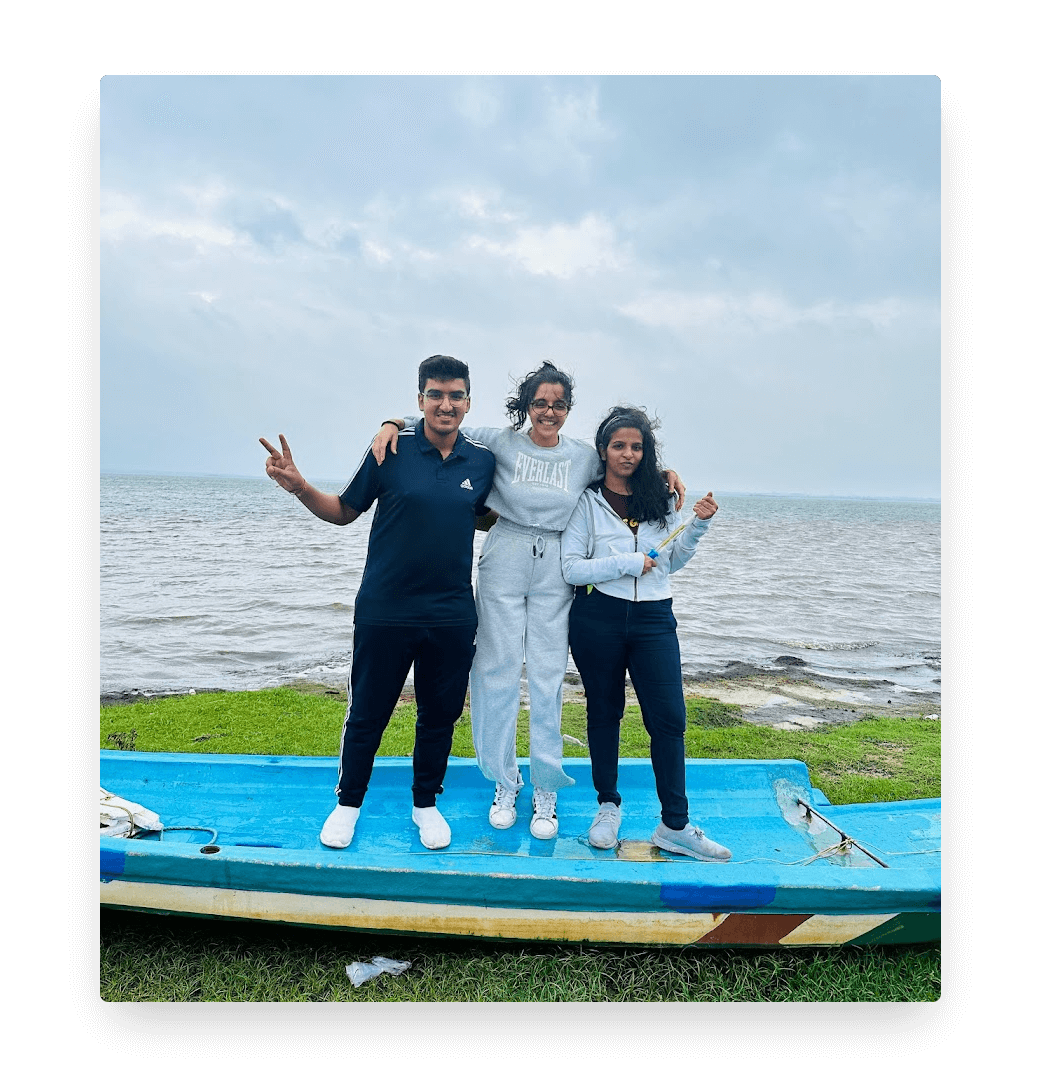 As the night fell, we decided to take our car out for a spin. We drove around the town, with the music turned up and the windows down, enjoying the feeling of freedom and adventure. At one point, we were stopped by a police officer, who asked us to pay a hefty fine since it was a rental car. It was a bit of a scare, but we managed to talk our way out of it and continued on our joyride. (P.S. Even during all this, Radhika was capturing videos, damn it)
Although, we didn't really get the chance to leave the comfort of our Airbnb since we all got occupied with some work stuff. However, the saddest part was that I lost one of my slippers in Bay of Bengal 🥲😂. On the last day, we had plans to go for deep sea diving, however because of a cyclone warning, it got cancelled and we had to rush out 😞
But, overall the trip to Pondicherry was filled with lots of memorable moments like these. We had a great time exploring some parts of the town, making new friends, and just enjoying each other's company. It was a good getaway and one that I will always look back on with fondness.
Trying out South-Indian Food
After Pondi trip, we all went to Chennai and stayed there for another night, since I was supposed to give a talk there at Devfest Chennai.
After the event, we all went to a nearby food court and thanks to Radhika, Vaasavi & Vaasavi's Niece, I got the chance to try Idiyaapam, Bun Parotta, Kuutu Parotta & Kurma with Curd/Raita.
I hope I spelled all the names correctly 🤞🏻 But, it was quite a different experience, trying out these dishes for the first time 🙂
First Solo Trip
In December, I had the opportunity to take my first solo trip to three amazing cities in India for a series of in-person talks.
Jaipur
The first stop on my trip was Jaipur, and I have to say, I was blown away by the city's rich culture and heritage. I had no idea what to expect before arriving, but I was immediately struck by the beautiful architecture and vibrant colors everywhere I looked. ❤️
I also did a lot of shopping in Jaipur, and was able to bring back some amazing souvenirs for my friends and family. One of the highlights of my time in Jaipur was definitely catching the views from Amer fort at night. The fort is absolutely stunning and the views from the top are breathtaking.
Pilani
The next stop on my trip was Pilani, which is a university town in the middle of nowhere. Despite its isolation, I really enjoyed my time there. I was able to relive my college days for a night and it was great to be surrounded by a youthful energy again.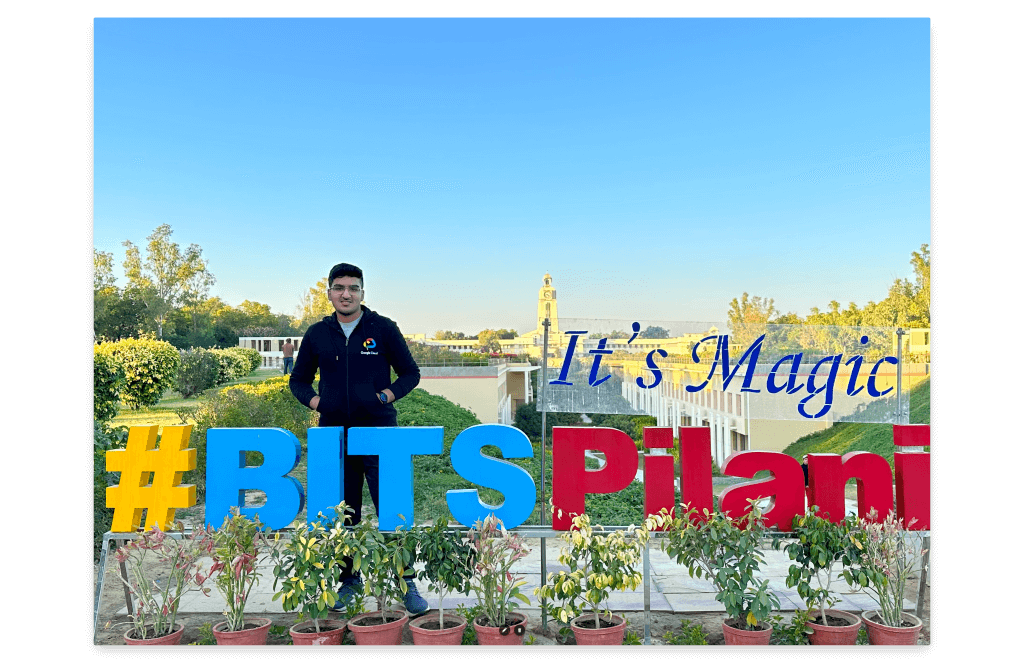 Plus, the Maggi noodles in Pilani were some of the best I've ever had. I'm not sure if it was the hunger from traveling or the fact that they were just that delicious, but either way, I was a big fan.
Ahmedabad
But the highlight of my trip was definitely my time in Ahmedabad. I had the chance to attend Devfest Ahmedabad, and was truly inspired by the talented developers and innovative technology on display.
Infact, Here's the craziest thing that I've ever done in an on-stage event so far. I performed "We will rock you" by Bohemian Rhapsody. It was an unforgettable moment, and the energy in the room was electric as we all sang together. Have a look! ✨
In my free time, I took a relaxing walk along the Sabarmati river on Nehru bridge. The peaceful sounds of the waves and the beautiful views of the city made it the perfect way to unwind after a busy conference. All in all, it was a trip full of unforgettable experiences and I can't wait to visit India again.
---
In addition to these experiences, I also made an effort to read more and listen to audiobooks. It was a great way to learn and expand my horizons, and I hope to continue this habit in the future. I even went on my first solo trip and did a lot of shopping, which was a fun and empowering experience.
Overall, 2022 was an incredible year for me. I learned a lot, grew as a person, and had a lot of fun. There were certainly some challenges and setbacks along the way, but I was able to overcome them and come out stronger.
Looking ahead, I have a few goals and plans for the coming year. I want to continue learning and growing both personally and professionally, and I hope to have even more exciting experiences and opportunities.
I hope you enjoyed reading about my year in 2022. Thank you for following along and I look forward to sharing more updates in the future! ✨